[coinpress="true"] is a shortcode attribute help to detect coin automatically.
Note: This shortcode method is effective only when you have our another plugin Coinpress along with Massive cryptocurrency widgets.
Coinpress is excellent plugin to generate 3000+ coin detail page dynamically by few clicks.
Here below steps to know how to use this shortcode attribute.
First you have to install & activate the Coinpress plugin.
You can also find the documentation for steps to install coinpress plugin from home page.
After plugin activated go to pages from wordpress admin dashboard settings, you will find new page Cryptocurrency Prices & Marketcap genereted by plugin automatically.
This page is the template for coin detail page, click edit
You can find number of shortcodes which displays coin information & some widgets.
You can also add other widgets to this page.
To display other widget in every coin detail page, create a widget using massive cryptocurrency widgets plugin.
Copy the shortcode and add this attribute to detect the coin on coin detail page, check below to know how
You can add this shortcode attribute to our widget shortcode. like this,
[mcrypto id="2405" coinpress="true"]
Now go to Cryptocurrency Prices & Marketcap edit page and paste this shortcode to display your widget in coin detail page anywhere you want.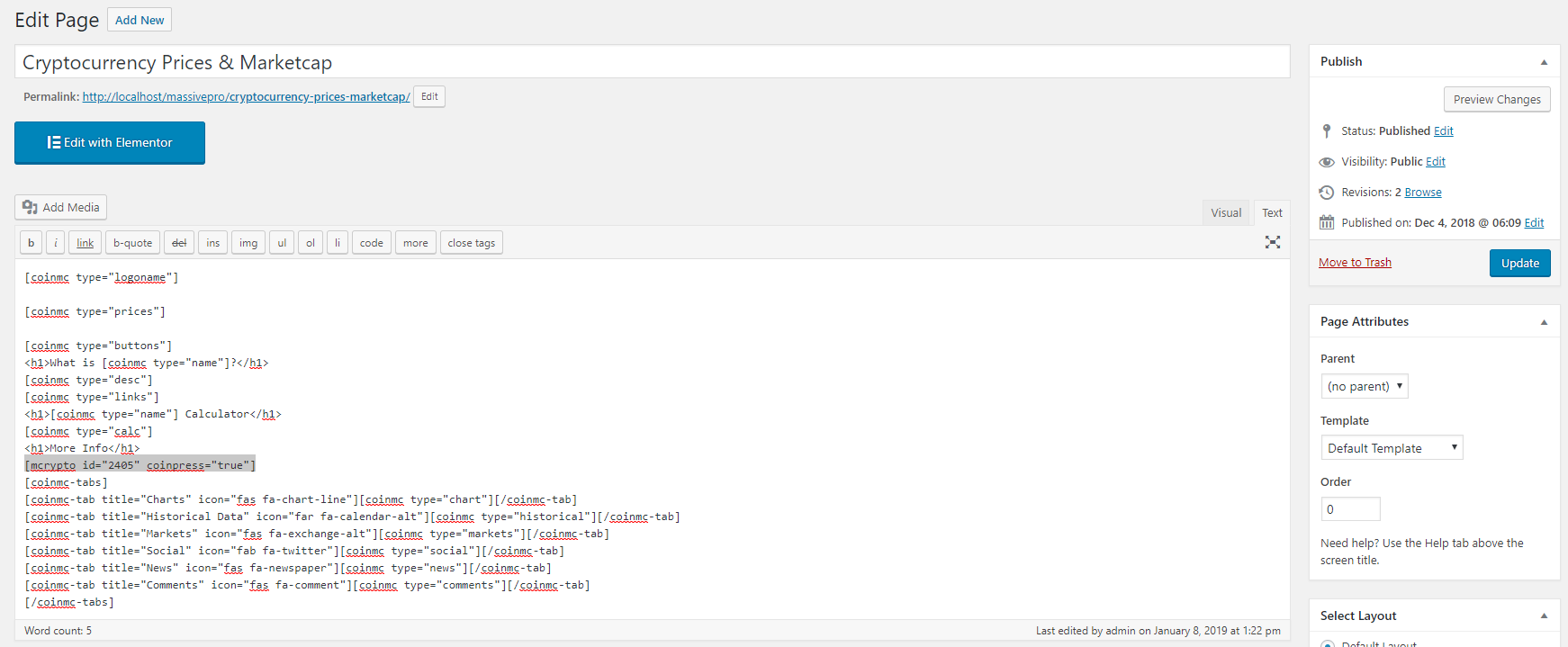 Now you can check the shortcode how it works.

Go to your url address bar and type currencies/bitcoin followed by your site url.
You can view coin detail page for Bitcoin with your additional widget you added.
Then you can check by changing any coin name followed by slug name currencies, for example Ethereum.
The coin detail page for ethereum will be loaded with your additional widget with the ethereum information
Hence the widgets will detect coin automatically and display the respective information for all 3000+ coin pages.