Check the screenshot below to have a look at general setting page of the coinpress plugin.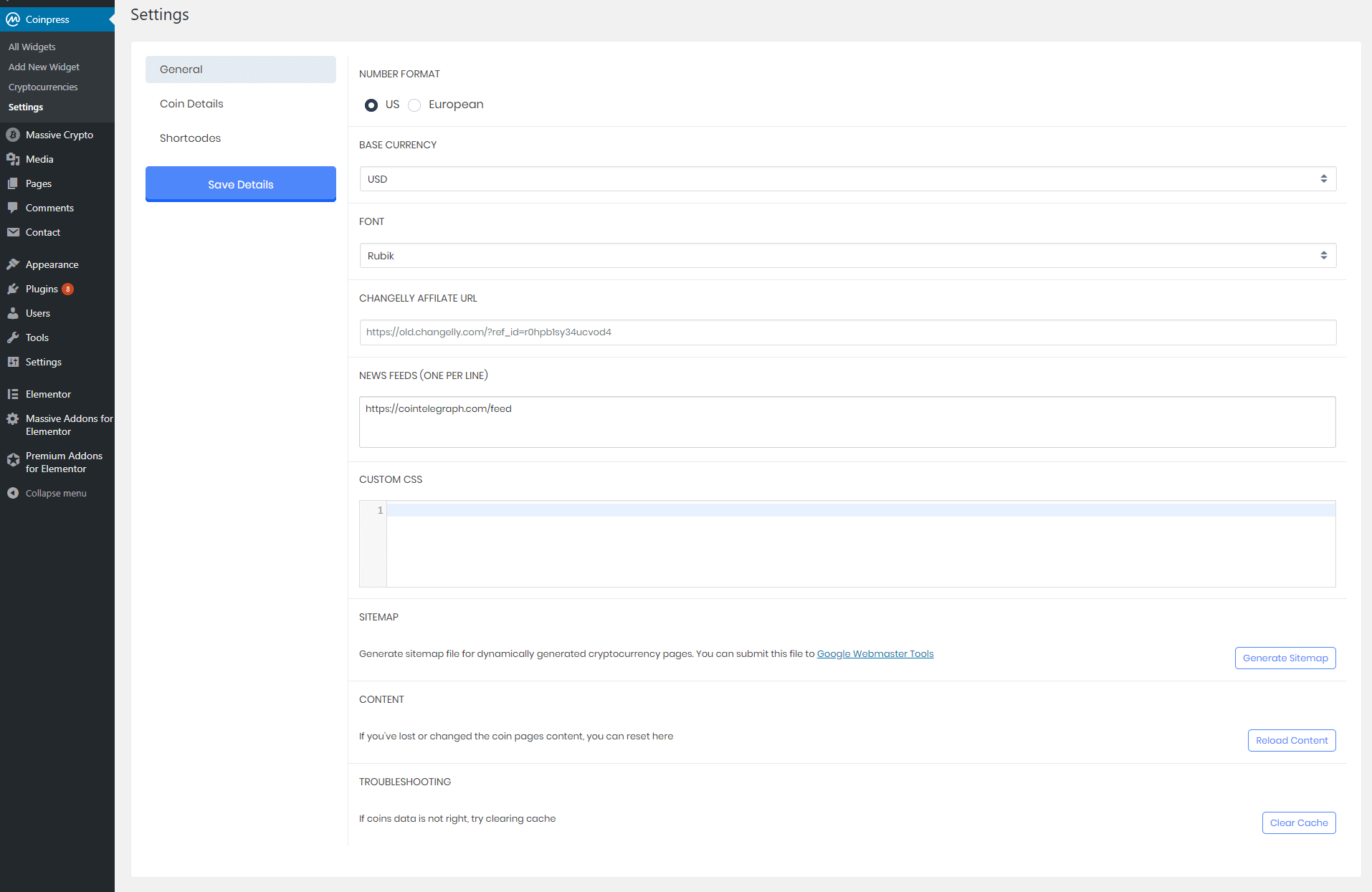 Number Format - To represent the price format, you can select any one format from available.

US - This format of pricing will be like $1,234,567.89 USD.
European - This format of pricing will be like €1.234.567,89 EUR.

Base Currency - You can change the currency format of coin to be display.
Font - You can change the font here.
Changelly Affilate Url - Providing affilate link will give you more benefits on every buy and sell process.

Go to https://changelly.com/.
Sign up with your email id or other possibilities given by changelly.com.
Complete all payout methods and instructions for cryptocurrency coin exchange.
Sign in with your account at the header menu you will find Affiliate Program a dropdown list.
From the dropdown list click Affiliate Dashboard.
Copy Affiliate link from your account dashboard.
Now go to Coinpress settings page.
Paste the Affiliate link in affilite link field.

News Feeds - Enter a url to get news feeds.

You can enter multiple news sites url one by one.
Each url should be in new line.

Sitemap - A site map is a model of a website's content designed to help both users and search engines navigate the site.

The main importance of sitemaps to SEO is that they enable search engines to crawl websites and collect this information,
Making it available whenever anyone in the world makes a specific search.
Sitemaps boost a website's SEO efforts greatly thereby enhancing the ranking of websites in search engines.
To know more about sitemap Check here
Click Generate Sitemap button to generate your sitemap.
You fill find a success message for generating sitemap and a link to view your sitemap coinpress.xml.
Click the link and copy the Url from address bar.
Submit Sitemap - You can submit this link to Google Webmaster Tool
You can find a link above the generate sitemap button, click it to submit sitemap.
To submit your sitemap in google webmaster you can refer this link click here

Content - If you've lost or changed the coin pages content, you can reset here.